Featured in the Reading Eagle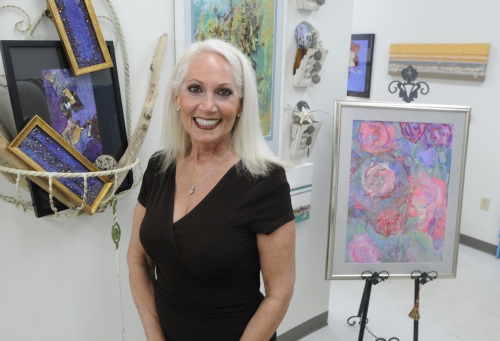 I was honored to be featured in the Reading Eagle this week!
Person of the week: Elaine Soltis
Address: Cumru Township.
Family: Husband, Edmund Solits, and daughters, Amber Thomas Short and April West, both of Cleveland; and grandchildren, Mya and Joshua West.
Occupation: Full-time artist.
Making a difference: Upon returning to Reading after having lived on the West Coast and in the Midwest, during which time she raised her family, Soltis was beginning a new chapter in her life. Her husband, Edmund, asked her if there was anything she wanted to do that she had not yet had the chance to explore. Soltis, whose father was an artist in the Berks County area, decided she wanted to devote more time to being creative.
Soltis said she believes all things are possible, and she has always loved art, being around artists and doing promotional work and performing. She often did art projects with her children and their friends as they were growing up, but she never studied fine art or took classes.
A little more than 10 years ago, Soltis took a leap of faith and became a dedicated artist. She has painted almost every day since then, and much of her work is mixed media. She uses found objects and acrylic paints to create organically her unique vision.
At this same time, she became involved with the Yocum Institute for Arts Education, Wyomissing, doing promotional work with artists there. Drawing on her background in radio and voiceover work, she volunteered with the institute's television show for about five years.
"It was just the natural thing to combine skills that I already had with volunteer work," she said.
Soltis decided to get involved with the GoggleWorks Center for the Arts because she really wanted to focus on her art and work side by side with other artists while still being able to promote them. Her immediate connection with the other GoggleWorks artists made her feel at home.
"I like that world of being creative with the friends I meet here and people and children," she said, adding she likes getting to see the children's reactions and hopes to plant the seed for art in their lives.
In addition to being a studio artist and teaching at the center, Soltis volunteers with the GoggleWork's monthly show on BCTV. She interviews featured artists of the month for a segment on the show.
She interviews four to five artists for each show. The segments are recorded in the artists' studios prior to the show airing.
"You see a little bit of their world and see their work," she said.
Soltis enjoys sharing art with people who may have no creativity or creative outlets in their daily lives.
"If you do what you are passionate about and do it from your heart, it branches into the most amazing things," she said.
In addition, she has volunteered as a GoggleWorks tour guide, helped with the gala and donated art for special events. She's also had the chance to get involved with the annual Berks Jazz Fest and other special events.
Rewards: "Being here at GoggleWorks with the artists around me and the people around me and the kids around me, it's like a support system," she said. "I guess it's the way the synergy is. You just catch fire with ideas and inspiration. I can even have my door closed and I swear it still comes through the walls."
Advice to others: "There's something about a law, I don't know what the law is, but it's a universal law," she said. "Something positive that you put out compounds and compounds and compounds and eventually it all comes back to its origin far richer than when it started."
Recommended by: Cindy Boscov, volunteer coordinator at the GoggleWorks Center for the Arts.
– Compiled by Jill E. Sheetz
(Image by: Reading Eagle: Jeremy Drey)